What Wedding Dress Should I Get?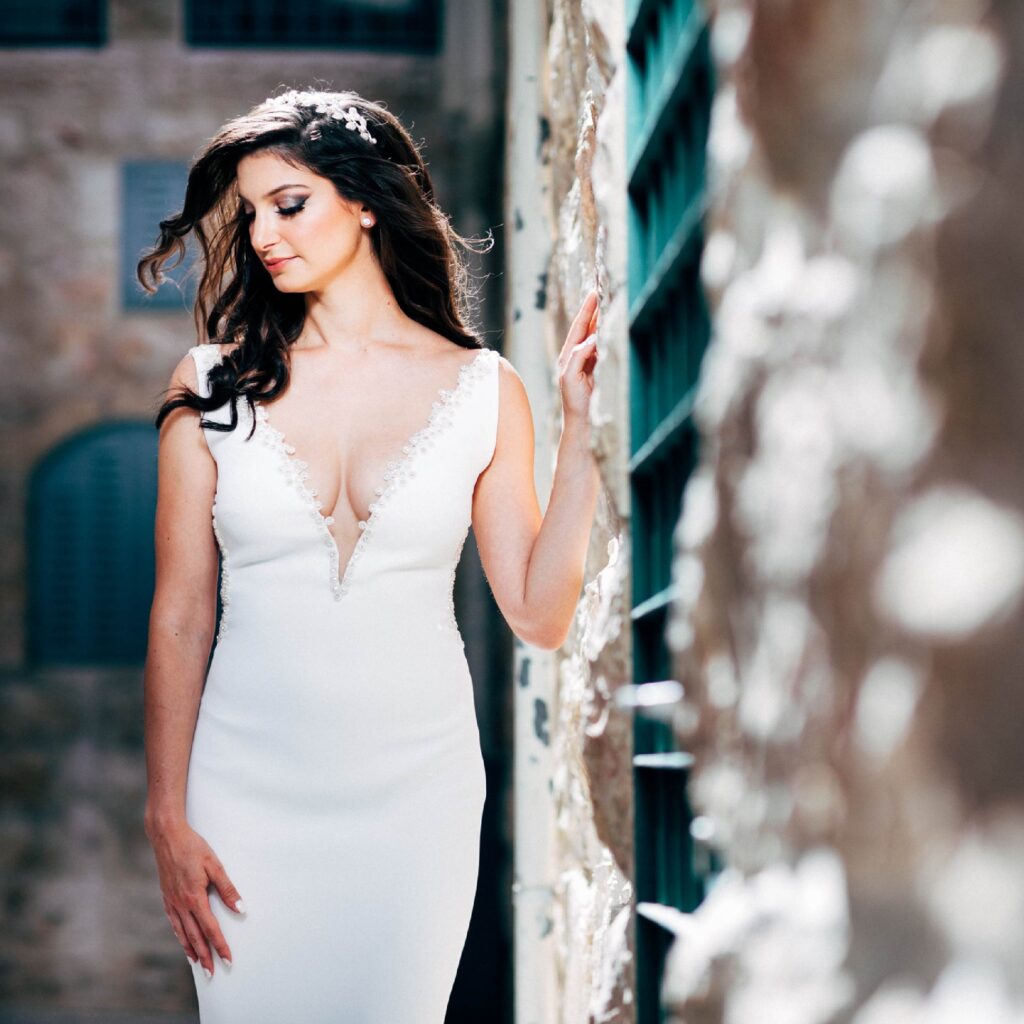 Finding your dream gown can be a real task. You've likely never tried one on before. And unlike any other piece of clothing you've purchased, there's a whole new language to decode! Tulle, A-line, fit-and-flare, organza, sheath, and more. Not to mention, the growing trend of multiple dresses—a more formal one for the ceremony and a party-centric one for the reception. All of this and more can make wedding dress shopping a very stressful endeavor. Though it's hard to capture this timeless occasion in a single (or several) outfits, these wedding dress tips are guaranteed to help you find the gown of your dreams. Or to respond the question, what wedding dress should I get? 
Body type
Beauty comes in all shapes and sizes. The key here is that you feel beautiful in what you are wearing. You want to love the way you look in the photos and videos of your wedding – years down the road. You need to feel comfortable. Remember that you will be spending 8+ hours in this dress, hugging, dancing and sweating the night away. So make sure that you feel confident, beautiful and at home in your body.
Tip: Even if you plan on losing weight before the big day, shop for dresses in your current size rather than going smaller. It's much easier to take a dress in than trying to work with one that's way too snug.
Personal Style
Many aspects of weddings are the same. There's the flowers, the music, the dancing and the food. But what you wear on this special day is a way to make a statement, and allow the  unique side of YOU to shine. Your dress has a huge role in telling your unique story. Whether you want to feel classic, vintage, or romantic, go into wedding dress shops with a clear vision of the look and feel you hope to have for your wedding. 
Tip: Choosing three specific words to describe your vibe can help narrow down your dress selections.
Season/ Weather
Think of your dress as the centerpiece of  your event. It appears in almost all the event photos and it plays a huge role in creating the atmosphere of your wedding. Therefore, you probably want it to blend in with the rest of your wedding's setting and decor. It should go with the overall look and feel of your venue, design and event atmosphere;  season and weather included.  Still doubting on when to get married? Read this 🙂 
Tip: If your wedding is in the August heat, go for lightweight fabrics in breezy styles. But if you're getting hitched in the winter, in an all indoor venue, it's all about heavier, lush fabrics like satin or taffeta.
Budget
Like any purchase, wedding gowns come in a dramatic range of prices. There are also many different options available for dressmaking. You can rent, you can buy and tweak an existing gown, and you can design and create from scratch. Know your vision and know your budget – and find the point where these two meet.
Tip: Be aware, handwork like embroidery or beading always adds to the cost of the dress. Of course, if simple isn't your style, those embellishments are worth it—just be sure to factor that into your budget. 
Finding the dream dress may take some time. Be patient. Don't let the wedding dress salon or your shopping crew pressure you into anything. If you don't love it now – don't take it. Sleep on this decision. The gown that makes you feel the most beautiful is the gown you should wear. Even if a gown checks off all of your criteria, listening to your feelings and intuitions can help you decide between dresses and lead to that magical moment when you've finally found "the one."
---